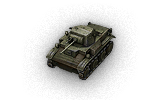 The
MkVII Tetrarch
is a Soviet, tier 2, premium light tank which was given as a present for all players during 2012 Christmas.
This tank is well armed, with a fast speed and powerful radio.
It's strengths include excellent acceleration and top speed, strong penetration and damage.
It's weaknesses include poor armor and low view range.